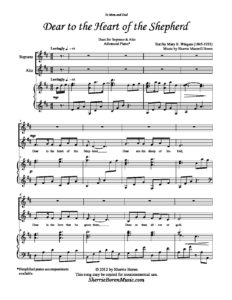 Get Sheet Music
Back to Music
Dear to the Heart of the Shepherd
Topics
Jesus Christ, Fellowship, Missionary Work, Love, Hymn Arrangement
About This Song
Winner of an Award of Distinction in the 2013 LDS Church Music Submission!

In 2007 I was asked to call a woman in my neighborhood and invite her back to church.  Feeling anxious about calling a total stranger, I fretted and paced all morning.  Finally, I sat down at the piano.  Flipping through the hymn book, I noticed the hymn, "Dear to the Heart of the Shepherd."  Something told me to sing through it.  By the end of the song, I was filled with an unexpected love—God's love—for this woman I had never met.  I took a deep breath and dialed her number.  To my surprise, she responded very positively.
A few years later, I decided to write an arrangement of "Dear to the Heart."   My first efforts were discouraging.  Although I liked the lyrics, the hymn tune seemed dated and limiting to me.  I set it aside, waiting for inspiration.  The song sat in my notebook for two years.
Inspiration came unexpectedly in April of 2012.  We were visiting China, where my husband's parents were teaching English.  As I lay awake with jet lag, a lovely fragment of melody came to my mind.  The next morning, the melody was gone.  For the remainder of our trip, we felt an almost tangible awareness of God's great love for the Chinese people. 
Upon returning home, I again found myself awake at night.  The melody returned to my mind, this time with the text of "Dear to the Heart."  As the song came together in my mind, I felt as if I was discovering something that already existed.  The melody went so well with the text, and together they stirred my heart with love—God's love for His children. 
As I wrote the accompaniment, I envisioned a shepherd among his sheep.  The lyrical melody reminds me of a shepherd's pipe.  My brother, Michael, suggested I write it as a duet for soprano and alto. 
Uploaded
March 16, 2017